ESPN
By Katy
"There it is! Mark McGwire's 68th home run and still counting! Now back to ESPN studios for a look at some more of the day's highlights…" mutters your TV, as you're sitting on your couch getting your nightly fix of Sportscenter. Ever wonder where all this originated? Truth is, for most Bristol residents, all that action is happening right in your backyard.
At 7:00pm on September 7th, 1979, ESPN was launched from a small studio in Bristol as a cable channel to cover local and regional sports. Little did the men who started this know that their network would slowly but surely establish itself as the "worldwide leader in sports." Seeing that it now reaches more than 77 million homes across America, you better believe it. ESPN is so huge; it has had to break off into different channels and divisions to accommodate all the things that they have done, like the following….
ESPN- The original. Started September 7, 1979 now reaches over 77 million homes nationwide.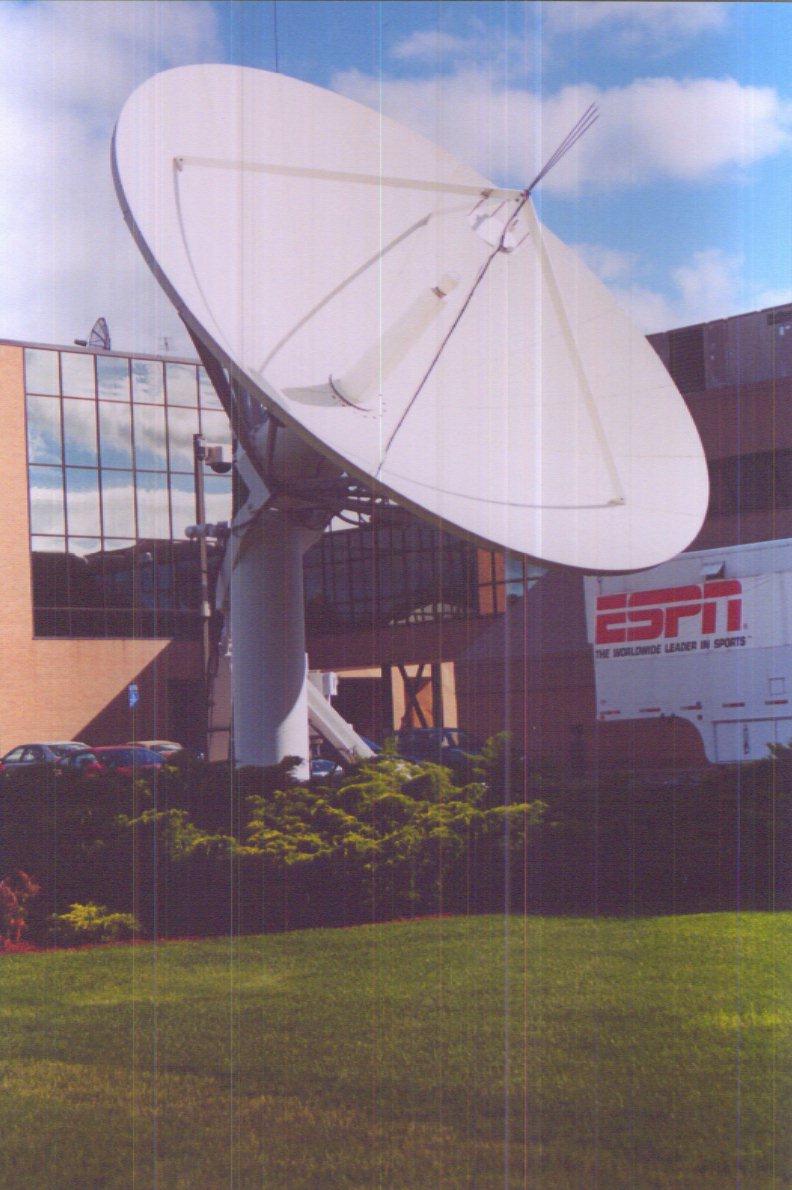 ESPN2- Launched October 1, 1993. Now reaches over 65 million homes across America.
ESPN Classic- Launched October 9, 1997; a channel devoted to the great games, stories, heroics, and memories in the history of sports. Now reaches 20 million homes.
ESPNEWS- Launched November 1, 1996, a 24 hour-a-day network bringing you the latest highlights, scores, and news in the sports world. Now reaches almost 18 million homes.
ESPN International- One of the largest sports programmers in the world, broadcasting to over 180 countries and territories, which equals out to over 156 million homes, transmitted in 21 different languages worldwide. First debuted in South America and Central America on March 31, 1988.
ESPN Radio- Launched January 1, 1992, ESPN radio provides over 620 affiliates with 24 hour-a-day sports coverage, with main stations set up in Chicago, IL, Hartford, CT, Virginia Beach, VA and Pittsburgh, PA. Over 80 different radio stations broadcast ESPN radio.
ESPN Extra- A pay-per-view channel, which offers a mix from ESPN's domestic and international broadcasts, both live and tapes.
ESPN Now- Features live scores and news, and updated schedules. Just what a sports fiend needs.
ESPN the magazine- First issue came out dated March 11, 1998, and was the winner of the Age Ad and Adweek award of "Best New Magazine."
ESPN.com- ESPN's official website, beating out its next 3 competitors combined, it now has 8 million users.
ESPN Zone- A restaurant/entertainment complex, first one opened in Baltimore on July 11, 1998, and has now expanded to New York, Atlanta, Washington, and Anaheim.
ESPN Enterprises- Creators of Jock Jams, Jock Rock, and Slam Jams. They have made over 100 video releases with Buena Vista Entertainment.
Now, with all that going on, you think you can get a job at ESPN??? Not so fast. After interviewing ESPN employee Luther Schulz, I found out that the company receives about 150 résumés a month, which translates into a hefty 2000 people applying for positions that aren't even open. A key thing in getting a job with ESPN "- - -know people and pull strings." Right now, about 5000 people are employed by ESPN, coming from all over the place, from New York, to California, to Colorado, to North Carolina, Chicago, and Florida. But only about 75-100 of them are actually from Bristol, proving that even though the company is so huge, people from Bristol are still in the mix.
Although ESPN put Bristol on the map, you don't see much of ESPN doing stuff with the city, but they make themselves known, whether it's a quick shout-out on a telecast, or that Emmy in your neighbor's bookcase...you still know ESPN is alive and well in little old Bristol, CT.
Of course the question that always comes up is "Why Bristol?" The truth is that back in 1979 not too many people were willing to invest in a concept as radical as a cable sports network. But the city of Bristol had some land available cheap where they were trying to develop a new industrial park. ESPN founder Bill Rasmussen took advantage of the opportunity and purchased the land which is today the center of ESPN's multiacre Bristol campus. The site proved to be fortuitous because the location just below the Lake Compounce ridge is ideal for sending and receiving satellite signals. The ridge to the west blocks out interference from the busy New York to Boston telecommunications highway and gives ESPN a clear path to its satellites and the world.
Sources:
ESPN: Pamphlet.
ESPN. Visitation: March 15, 2000.
Schultz, Luther. ESPN Accounting Dept. Interview.