The Battle of the Heavyweights

Rockwell versus Page

By Dan the Man

Announcer:

Ladies and gentlemen, we at Fiction Fights Inc. bring to you yet another unforgettable championship bout that helped to define the 20th century in Bristol. Remember: while our account may be fictional, the biographical details are nonfiction. Welcome to the bout of the millennium - - the heavyweight match that determined who was the "main man" in Bristol. As is our custom we have selected to show only the three most significant rounds of the scheduled ten round fight. A-n-d n-o-w l-e-t's g-e-t r-e-a-d-y t-o r-u-m-b-l-e!! (wild applause) In this corner wearing the blue trunks--Albert "Rocky" Rockwell (more cheering) and in this corner wearing the red trunks—De Witt "The Pulverizer" Page (applause). Now let's hand it over to tonight's ring official, Mills Avenue.

Mills Avenue: All right, gentlemen, I want a good clean fight and that means no mudslinging and hitting below the belt. Is that clear?…Good. Okay now let's get it on and come out swinging.

Edward Dosell (distant cousin of Howard Cosell, very distant): Good evening ladies and gentlemen; I'm Edward Dosell, your ringside commentator, bringing you the main event from center court at the Mall at Bristol Centre. This should be a tumultuous fight considering the animosity these two heavyweights (who just happen to be brothers-in-law) feel towards each other. There certainly has been an abundance of pugilistic venting (trash talking) leading up to "The Fight" and in just 60 seconds we'll find out which fighter can articulate his message in the ring, but first these words from our sponsor.

Hey, stick'em up! That's right - - you heard me - - stick'em up! Do you want the freshest mouth in town? the freshest mouth around? Well then, stick a slab of Krinkle to your teeth - - Krinkle chewing gum for people with a purpose - - Krinkle!

Round 1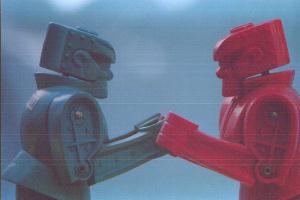 Edward Dosell: Well, as promised Rockwell and Page have come out swinging. Rockwell just hit Page hard with the claim that he started the business that kept Bristol thriving for so many years, New Departure. He chose Bristol to start his new business of making doorbells because of the town's reputation for making clocks. His doorbells had a mechanism that was similar to that of a clock. Since New Departure's birth in 1889 it manufactured Rockwell's inventions such as the luminous bike lamp, the ingenious bicycle coaster brake, and the luxurious Haupt-Rockwell pleasure car, thus employing many Bristol residents. Rockwell was also responsible for the production of yellow taxicabs at New Departure (Yellow was Mrs. Rockwell's favorite color.)—never mind just Bristol, where would New York City be today if it weren't for that Rockwell product? After all, most of the cars there are yellow! Hold on! Page has just counterpunched by saying that he replaced Rockwell as head of New Departure in 1913 when the Board of Directors became displeased with the founder. It seems that Rockwell asked Charles Treadway, New Departure's treasurer, for $100,000 to continue producing yellow cabs, but the directors kicked him out and gave Page the reins. But hold on fight aficionados, Rockwell has bounced off the ropes, shouting that he needed more money to keep the cab company in business and to have a monopoly on the New York City cab business. Charging forward, Page has landed a vicious punch to Rockwell's jaw by noting that when he took over the company he merged it with United Motors and later General Motors, which gave Bristol national prestige. With Page at the helm, New Departure became the largest producer of ball bearings and employed well over 5,000 people. (ding, ding, ding ) At the end of the first round Rockwell seems staggered; already he has a bit of a black eye. And now a word from our sponsor.

Be brief – avoid the wedge – you deserve a hug today so why don't you slip into some JOKE-E underwear? You owe it to yourself.

Round 6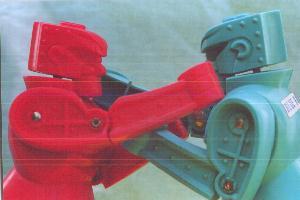 Edward Dosell: Okay, fiction fight fanatics, Rockwell has emerged from his corner, re-energized, with fire in his eyes. He quickly jabs with the fact that he donated 80 acres of land, in1911, on the west side of town to be used as a park as long as the city would keep it up with $15,000 for park maintenance for 8 years. Today Rockwell Park has a playground, a basketball court, a soccer field, a picnic area, and a lagoon. But Page has bounced off the ropes, landing a left hook with the fact that in 1933 he donated 75 acres to the city on Federal Hill's northeastern slope for a park along with a $150,000 trust fund to sustain it. Now Page Park has a playground, baseball/softball fields, lighted tennis courts, a picnic area, a fishing lagoon, and a swimming pool. Stunned, Rockwell deflects a Page right-left combination and uppercuts him with a revelation! He reminds Page that in 1920 he gave 15 more acres for his park! (ding, ding, ding)
Mills Avenue: Round's over fellahs, break it up, back to your corners!!
Crowd: Rocky! Rocky! Rocky!
Edward Dosell: And now a message from our sponsor.
Shhh!!! No one wants to know that you had beans for lunch. Pop a few capsules of fast acting Bean-Be-Gone after you eat and keep your secret safe!! Bean-Be-Gone-- the only pill that's been keeping secrets for over 50 years.
Round 10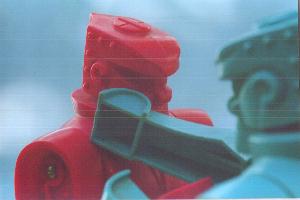 Edward Dosell: Hold on, folks—Page has charged from his corner with fists blazing proclaiming that he supported school sports in Bristol by donating $5,000 for new bleachers at Muzzy Field where many school sporting events are held. But, Rockwell has countered with a pandemonium of perforating punches (large verbiage? Remember, I'm a distant cousin of Howard Cosell, the King of Big words) by saying that he too supported Bristol schools by giving the city 12 acres in Dunbar Meadows for a roadway and park as long as a bridge over the Pequabuck River and a school were built. Today this is the beautiful Memorial Boulevard where a "Monument Walk," honoring Bristol soldiers who died in all the wars the United States has fought in, and Memorial Boulevard Middle School are located. Perhaps sensing that he may need a knockout, Page lands a pulverizing punch on Rockwell's ego with an uppercut by stating that he donated the solarium at Bristol Hospital. But there's no quit in either fighter. Rockwell just rocked his sister's husband onto his heels with a right-hook to the midsection, saying that when construction costs were too high for the school being built at the Boulevard, he took over as construction supervisor at no cost. Not to be outdone, Page has answered Rockwell's civic challenge by almost knocking him out of the ring with the fact that he saved Bristol during the Depression by giving it a $500,000 loan and making it institute a finance board to manage the town's money; that board still exists today. Fortunately Rocky is going to be saved by the bell, left speechless since he died five years before the Depression hit. (ding, ding, ding)
Mills Avenue: That's it, men the fight's over!!!
Edward Dosell: Well, folks, there you have it—the Battle of the Millennium—and that it was! Now it's up to you, our judges, to determine the winner. Click on your boxer's score box down below to find out if the fight judges agree with you.
Announcer: And now, ladies and gentlemen, the decision of our three judges:
Pick the person who you think won the bout by clicking on your boxer's button.
Sources:
Builders of Bristol (pamphlet)
Clouette, Bruce and Roth, Matthew. Bristol, Connecticut-A Bicentennial History: 1785-1985.
"Finance Board Origin." Bristol Today. 2/10/2000.
Greenleaf, David. (B.C.H.S. Math Teacher). Interview: 4/3/00.